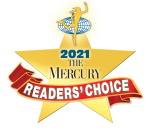 Zuber Realty has been selected by Mercury Readers as 2021 Readers' Choice for Best Real Estate Agency.
The 28th annual Mercury Readers' Choice is a fun contest for the community to cast their votes for their favorite local businesses in a variety of categories. 
Thank you to our clients and the community for their support! The Zuber Realty staff is proud to be recognized for this award.