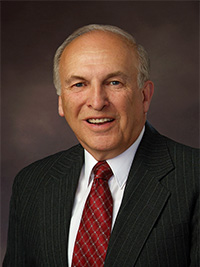 After 40 years as a real estate agent, Karl Stauffer has developed a reputation. He knows everybody and their families—where they lived and whom they married—and he cares.
Fastidious with his own property, he brings the same attention to home improvement details that enhance a client's property to potential buyers affording sellers the opportunity to create the best scenario to meet their asking price.
Karl has been found with a paintbrush refreshing a client's front door for better curb appeal, weeding an untended garden, or even mowing the lawn if the task becomes too burdensome for an elderly seller.
Community Service
Helping people is what he does—in his work and in his community. Dedication to the welfare of his community is acknowledged in the number of awards he's accumulated. A member of the Boyertown Lions Club for 25 years, he received the Lion of the Year award and the Melvin Jones Fellow Award—the highest award offered by the Lions Club.
He was named the 1997-1998 Citizen of the Year Award by the Boyertown Area Berks-Mont Newspaper and Jaycees Club. Karl served on the Board of Directors of the Boyertown Lions Ambulance. He is an active member of Good Shepherd United Church of Christ in Boyertown and serves regularly as an usher and greeter and occasionally as a landscaper.
He helped raise money for Boyertown's acclaimed Bear Baseball Stadium, Boyertown's Memorial Football Stadium, the Boyertown YMCA, the Boyertown United Way, Heart Fund, and the Boyertown Victory Mile Committee.
Karl aided in the publication of two pictorial history books of Boyertown, doggedly seeking photographs and information about people and properties featured in the volumes.
Karl lives in Gilbertsville, PA, with his wife Donna. They can be found attending local sports events, hosting holiday parties and gatherings for family members and friends, and keeping up with their children, grandchildren, and great-grandchildren.