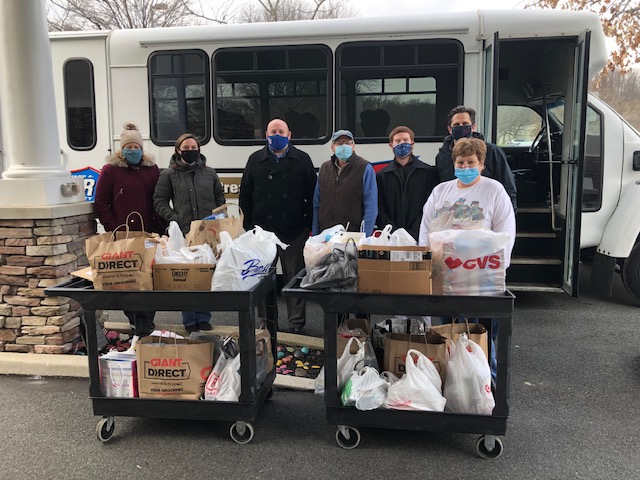 Updated March 1, 2021
The Mercury recently covered the food drive we held to benefit the local area's food pantries.
Agents and staff of Richard A. Zuber Realty recently invited the community to join them in a food drive to replenish the area's food pantries that are experiencing an unusually greater need throughout the COVID pandemic.
"Our effort is designed to heighten awareness of the needs of our most vulnerable community members and provide them with what they need while giving members of our communities a convenient way to demonstrate their empathy and compassion," owner Richard A. Zuber said in a release.
Agent Beth Baker handed out fliers in Royersford to create awareness of the effort. The agency and individual agents shared details about the drive on social media. Designated boxes were placed outside the Boyertown and Royersford offices for the community to drop off food and supplies from January 4 to January 18.
One family used the food drive as a teachable moment. The Woods-Hill family donated bags of food and essentials to the Royersford Zuber Realty office.
"The mother said she is trying to have her boys involved in community service efforts like a run or walk of any kind for cancer or diabetes, for example, and the Zuber organization gave her a perfect opportunity to start the new year," said Paula Babb, the staff member who was on hand to receive the donation.
The Richard A Zuber Realty community food drive concluded on Martin Luther King's National Day of Service, a federal holiday designated as a national day of service to encourage all Americans to volunteer to improve their communities on January 18.
"Our watchwords for this new year are positivity, energy, and purpose," said Zuber. "For Martin Luther King's National Day of Service, we wanted to provide a convenient way for our communities to participate."
The Zuber Realty bus recently delivered all donations, including food and essentials, to Preston's Pantry in Boyertown and Open Door Ministry in Royersford.
"(We) were delighted at the level of response our offices have reported. Folks really want to help," he said. "Service in our communities is a highlight of the Zuber Realty agency. Looking out for one another is sorely needed in these challenging times."
January 1, 2021
In celebration of Martin Luther King National Day of Service on January 18, the agents and staff of Richard A. Zuber Realty invite the community to join us in a food drive to benefit the local area. Food pantries are experiencing an unusually greater need during the COVID-19 pandemic, and donations received during the food drive will help to replenish the area's food pantries.
From January 4 through January 18, 2021, donations can be dropped off in the designated boxes placed outside the Zuber Realty Boyertown and Royersford offices. Zuber Realty's offices are currently closed to the public to ensure safety during COVID-19, however, staff members will collect donated items from the designated boxes each day.
Zuber Realty Boyertown Drop-Off Location
201 East Philadelphia Ave
Boyertown, PA 19512
Zuber Realty Royersford Drop-Off Location
384 N. Lewis Road
Royersford, PA 19468
Your Donation Benefits Local Food Pantries
We will be delivering all donations received during this period to local organizations.
Preston's Pantry, which is part of Boyertown Area Multi Service, is one of the organizations. They have let us know their most-needed food items include pancake mix, syrup, canned beans, Chef Boyardee meals, canned soup, jelly, crackers and kids snacks. Other needed items are hygiene and pet supplies including laundry detergent, shampoo, conditioner, paper towels, tissues, hand soap, toothpaste, dry dog food and cat litter.
The food pantry at the Open Door Ministry in Royersford serves residents in the Spring-Ford area.
We look forward to participating with our community in this year's national day of service.